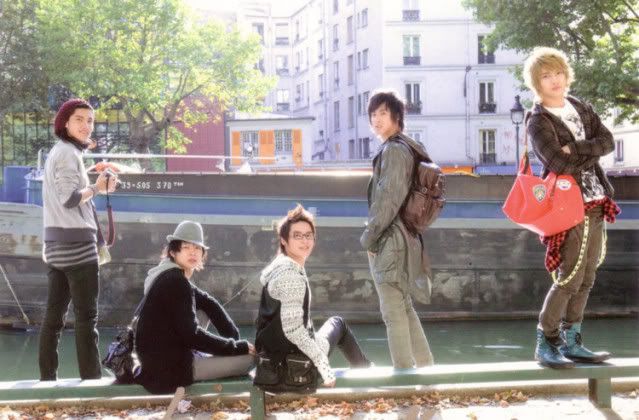 Friendly and Don't Bite community

~~** WELCOME **~~
Things to note:


All chapter 1 of fanfics are opened to public. The rest will be f-locked.


I accept friend requests too. 'Add as Friend' and 'Join community' are TWO different things.


What to Do?
For new users, log-in with a livejournal account and click
'join community'
at the top of this page and follow through the instructions.
Current Mood:

blank


ps. my midterm break is coming in a week's time!
Hi fellow readers, thank you for sticking around (if any) after 2 years. The reason why i stopped writing is because Uni literally sucked my soul and I could barely contribute time to write any fics. I miss writing a lot and lately I have been thinking of going back to writing. During my 2 years of hiatus, I fell in love and made wonderful people who taught me about life and love. I hope I am able to channel what i have experienced into my stories and I hope you support me. Lately i have been so stressed with my school work that i often see myself crying randomly and i told myself i need an outlet before i really sink into depression. i have stocked up some old fics which i wrote halfway and have not posted and i hope to post them soon.
Hi I am looking for serious buyers only.
Managed to get two full sets of Toho's A-nation 2014 bracelet and after days of consideration, I've decided to let one full set go.
You know how hard it is to get a full set since it is random and living outside of Japan, the shipping is a pain in the ass.
As much as I hope you can get one, but Please try to buy the full set.!
Details:
Tohoshinki clear bracelet (no card included)
Length:
Bracelet: Length 210mm x width 15mm x thickness 1.5mm
1 for sgd7
3 for sgd20
Normal Mail + sgd1.50 (i am not responsible for lost mail)
Registered Mail + sgd2.30
International Mail, please pm me separetely.
For locals, bank transfer/concealed cash. (sorry, no meetups as I really don't have the time unless you are willing to travel to my preferred station).
For overseas buyers, paypal.
Should you need any more details/information, feel free to pm/comment/email me at sanityscream@gmail.com
ETA: okay, since this is high in demand, the first to pay me money will get it
16 September 2014
Item is officially sold!
Sorry to those who we were in the Queue and can't get your hands on the bracelets!
haru_ran
. I'm sorry I didn't update. Been... busy xDDD
001. What is your username and today's date?
diamantdesaphir
, 7 august 2014
002. How old are you, approximately?
21
003. Who are your favorite BL Mangakas?
Shungiku Nakamura
Takarai Rihito
Yamano Ayane
Yoo Ha Jin
004. What are some good BL mangas you've read lately?
Hana wa Saku ka by Hidaka Shoko
All titiles by Takarai Rihito
005. Do you prefer serious or comedy?
Comedy
006. Name a manga that made you cry?
I don't think I cried in any BL manga...
007. Name a manga that made you laugh?
I haven't been reading lately so I can't remember? But I think Sekaiichi Hatsukoi?
008. What kind of Seme characters do you like?
A tsundere.
009. What kind of Uke characters do you like?
I prefer them to be more manly, not so feminine, to be a bit persistent and play hard to get
010. What kind of Seme character do you DISLIKE?
A seme who uses brute strength aka rape on their uke to get them into bed..
011. What kind of Uke characters do you DISLIKE?
whiny, girly, moe
012. What kind of setting is a turn on?
Anything from the back *_*_*_*_*
013. What kind of setting is a turn off?
RAPE, S&M
014. What do you think about mangas that don't have any "H" aspects?
F L U F F Y. Sometimes foreplay are the best.
015. Do you like Younger semes?
OH YEAH
016. Do you like clumsy, cowardly semes?
Yeah 8D
017. Do you like school settings?
YES
018. Do you like macho men?
You mean like bodybuilder buff then no
019. Do you like long-haired guys?
YESS~!
020. Do you like girly boys?
No.........
020. Do you like S&M stories?
No..............
021. What mangaka's H scenes do you really like?
LOL i dont take note such stuff...
022. Is there an H scene you particularly liked?
Nope
023. What is a turn on in an H scene?
Anything erotic,locked in a locker (room)? /bricked
024. Are you okay with realistically drawn H scenes?
HAHA yes
025. In manga H scenes, what positions do you like most?
69? Anything is good, kay haha
026. What do you think of masochists?
hmm i dont really enjoy such people
027. What do you think about leg hair?
is this relevant in bl?
028. What about armpit hair?
NO. but it's such joy to look at dbsk's
029. What about pubic hair?
uh............. ???
030. Do you read BL novels?
Yes
031. Do you listen to BL drama CDs?
YESSSSSS
032. Who are you favorite BL seiyuus?
Takahiro Sakurai
Kentarou Itou
Yuuichi Nakamura
Kamiya Hiroshi
Takashi Kondo
Katsuyuki Konishi
033. Are there any manga besides BL that you enjoy?
Ao Haru Ride
Horimiya
Never Give up
Kuroshitsuji
Ookami Shoujo to Kuro ouji
...
034. Did you ever have non-canon pairings for the above manga?
YES!!! FUTABA AND KOU <333
035. Do you fantasize about real people?
Yeah, once you're deep into the yaoi fandom, i guess that's it? (LIKE HOW IM YUNJAE-ING FOR 6 years and going)
036. Have you ever played BL games?
I tried... but I didn't like still images............
037. How long have you been a fujoshi?
Hmm.......... from the time when I am aware, i guess 8 years? But if you want to talk about first encounter that would be cardcaptor sakura between touya/yuki so... 16yrs?
038. What triggered you into becoming a fujoshi?
I think I was reading Love for Venus and the two main guys were quite gay then I picked up ouran and saw the whole tamaki/kyouya ship and i got hooked <3
039. What makes you feel like you are a fujoshi?
It's like asking you what makes you feel like you are an otaku
040. What is your fetish?
SMILE!!! and well-defined hipbone<3
041. If you see BL manga magazines, what kind of description would make you want to purchase it?
Some free gift that I can use? I won't buy it actually. It's too chunky.
042. Do you have any friends who are fujoshi in real life?
I grew up in a single-ed school so my circle of friends are pretty much fujo
043. Do you have interest in the real gay world?
Hohoho, yeah~
044. Have you ever seen gay porn or magazines?
8D
045. Do you buy the comics? Or do you only read magazines?
Buy the manga that i like
046. Tell us why, and if you do buy magazines, which ones do you read?
I don't buy.... but i'm interested in the new Emerald Magazine 8D
047. What's a label you read most from?
Hana no Yume, Kadokawa, Square Enix, tongli
048. Can you read BL manga openly in a bookstore?
We don't have a single BL manga here.
049. Where do you buy your BL manga?
I haven't purchased any TT____TT
050. On average, how much do you spend on BL manga a month?
-
051. Do you buy based on the cover?
-
052. Is there a Mangaka whose works you will buy without fail?
Eh we are talking about BL right? If i can get my hands on, I will definitely get all of Rihito sensei's!
053. Do you like or dislike it when a female appears in a BL manga?
NO!! They are such fun loving people
054. In school settings, what's a club activity you like for the setting?
Archery!! Swimming
055. How about cosplaying in stories?
HURHURHUR #KINKS
056. Are there any uniforms or clothing that is a turn on?
/nose splutter/ suits and swimming trunks onegai
057. Gakuran or Blazer?
sweater
058. How about incest?
Hmm I haven't been reading much. Maybe once in a blue moon?
059. Do you like reversible uke/semes?
OHHHHH HELL YEAH (cues misaki and usami scene)
060. What about animal sex?
UH NO. i honestly don't understand the hype over wolf and pony sex
061. What's a location for good H scenes?
B A T H R O O M
062. Do you prefer rough, REAL art, or pretty and elegant art?
All of the above, lol
063. What kind of underwear do you prefer to see?
Briefs.
064. Do you have any height preferences?
Nah~
065. Do you like two old guys together?
IF YOU MEAN YOKOZAWA AND HIS PARTNER THEN YES
066. What about old guys being the uke and young guys being the seme?
KOISURU BOUKUN? YES !
067. What about Shota?
fml boku no pico all over again???
Probably only accepting Sebastian/Ciel
068. What about gang bangs?
NO. but it depends.
069. Name a Seme character you thought was really hot and why
Mookyul from Totally Captivated. I cry, he is just so fucking hot I think partially because of how the mangaka drew him ;___;
070. Name an Uke character you really liked and why.
Misaki from Hana no Mizu shiru - HE IS SO KAWAII
071. Do you like mangas that don't have a happy end?
NO. I will throw a dictionary at your face.
072. If you were a gay guy, would you be uke or seme?
I'm definitely a seme, but i'll also train up my uke to be a seme 8D
xxxxx

Oh so now you know my kinks
LOL!
I got the BL meme from
Current Mood:

chipper

Current Music:

Muse (Love Live) - KITTO SEISHUN GA KIKOERU
Title: The process of things (Sequel to Love isnt a fairytale)
Pairing: Yunjae
Genre: Romance, AU, crack
Rating: PG - R
Length: 9/10
Summary: Jaejoong and Yunho are engaged but not everything is going the right way when Jaejoong is so possessive of what's his. Not only that, Jaejoong enjoys the process of everything

A/N: IT GETS A LITTLE HOT AT THE END. JUST A WARNING. NOT VERY HOT THOUGH. YOU MIGHT NEED TO FAN YOURSELF //////////
(
Read more...
Collapse
)
Pairing: yunjae, yoosu, min/oc |
Genre: AU, romance, crack | Happy DongBang Family <3
Rating: PG(?) |
Status: On-going
Summary: If life could be given a second chance, I wish I can hold on to it.
Jaejoong goes mad.
(
Read more...
Collapse
)
14 days to my heart.
Pairing: yunjae, yoosu, min/oc | Genre: AU, romance, crack | Rating: PG(?) | Status: On-going
Summary: If life could be given a second chance, I wish I can hold on to it.
A/N: i WANTED TO make this a oneshot but it became so long i think i'm making it a prequel. hopefully i can change it to a verse.
(
Read more...
Collapse
)
Prequel to
Price : SGD40
Quantity: 1
Shipping/postage: Free for singaporeans, buyer pays for shipping for international
Extra Details:
-Brand New
-My friend's selling it because she's allergic to the material.
-Pricing already includes shipping from Japan
-Open to both Singaporean and interested overseas buyers.
FOR SERIOUS BUYERS ONLY! Please do not disappear after confirmation or you will be blacklisted and i will hunt you down if you decided to go mia on me ♡
Please leave a comment below if you're interested or you can email me at sanityscream(at)gmail(dot)com :)
Help spread the word!
Hi, i'm helping my friend sell her Tohoshinki tree tour shoulder/clutch bag.
Author: diamantdesaphir
Pairing: Yunjae
Word count: 200
Concrit?: Yes
Rating: G
Summary: Yunho thinks stargazing is a beautiful hobby but smoking ruins it.
X-POSTED FROM
dbsk_flashfic
OPEN CHALLENGE: AIR
(
Read more...
Collapse
)
Title: Morning air


i'm on a roll this week. I have no idea why. But it's good like this because i'm writing an average of 3 chapters a day for Behind the cosplay couple. I have a lot of crazy plunnies in my head and I just speed type them and I dont vet through so you get weird grammar and lots of spelling mistakes. It's been so long since I managed to write continuously for hours (i think it is better like that than writing one chapt a day) because if i stopped, i would've get writer's block, which suck cause I go hiatus for months, years even.

I'm very determined to finish behind the cosplay couple and i am capping this at 25 chapters, but I have a feeling i'm going to exceed because 18 chapters and I'm finally only at the best couple event and there is going to be a month more till cosplay event. The only thing I can do is increase page length which means from the initial 6 pages to 10. I hate writing so long because it feels like im just droning on D:

I'll decide and see what I can do.

I shall go to bed and write more tomorrow.

Oyasumi <3
HOWDY MATES!